We operate a monthly food bank the second Thursday of every month from 10am to 1pm.  We provide healthy non-perishable food parcels of approx. 12 items per pack.  If you would like to receive a pack please phone and register with the service so that we can send you a text reminder and relevant information. 
Hospital FRC provides food supports through the School Meals Programme and the FEAD programme.  We have also received funding support from Tusla and through donations to the service.  Staff and volunteers support the delivery of this service. 
Hospital FRC is part of the FEAD programme.  The Fund for European Aid to the most Deprived (FEAD) is an EU-wide programme to help people take their first steps out of poverty and social exclusion. The programme provides dry foodstuff to families and individuals struggling to provide themselves with the basic necessities of life due to lack of financial resources.
Assistance needs to go hand in hand with social inclusion measures, such as guidance and support to help people out of poverty.
The food items consist of basic, non-perishable foods which are easy to transport and store. This includes rice, pasta and pasta sauce, soups, canned fish, jam, tea, coffee, sugar, canned vegetables and breakfast cereals.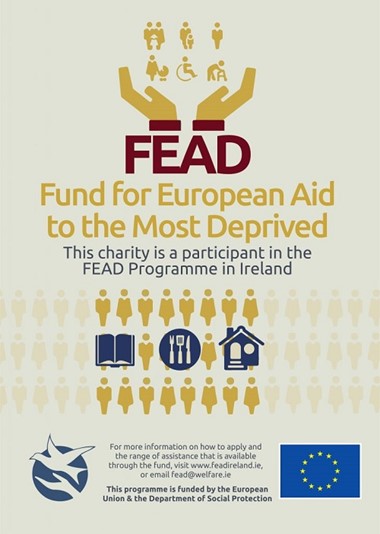 FEAD Ireland is funded by European and Irish exchequer funding. The Department of Social Protection is the managing authority of FEAD in Ireland, and also responsible for its implementation.
The programme has proved an invaluable resource for families and individuals availing of supports through Hospital FRC.  For further information on this progamme visit the FEAD website or email  FEAD@welfare.ie